---
1.
Pit Bulls
(Weight: 55-65 lbs.)
Pit bull is one of the most brave and dauntless dogs that usually takes on any opponent. Therefore they take part in dog fighting. It is common knowledge that this dog breed can even mangle the human to death as pit bull locks its jaws onto the booty until it is dead.
---
.
2. rotweillers
2.
Rottweilers
(Weight: 100-130 lbs.)
Due to their intense territorial instinct these dogs are very aggressive. Rottweilers are commonly used as
guard dogs.
3.
German Shepherds
(Weight: 70-100 lbs.)
This breed of dogs is known as a smart and vigilant one. As German Shepherds proved to be confident and fearless local authorities such as the police K-9 unit use German Shepherds as a police dog.
4.
Huskies
(Weight: 44-66 lbs.)
Despite of their energy and intelligence this breed is not regarded a good guard dog. It is caused by its kind temperament and personality characteristics. However it should be marked that between 1979 and 1997 fifteen fatal cases were caused by huskies.
5. Alaskan Malamutes
(Weight: 75-100 lbs.)
This breed requires a lot of exercises to be happy as being bored they become disobedient. On the whole their characteristic features are energy and activity.
---
6.
Doberman Pinschers
(Weight: 65-90 lbs.)
Doberman Pinschers are famed by such features as alertness, intelligence and loyalty. Therefore they are considered to be one of the best guard dog breeds. The dog usually attacks only in case its family is in danger or when being provoked.
7.
Chow Chow
(Weight: 50-70 lbs.)
The Chow Chow seems to be distant and independent, however they require staunch attention. If badly bred they can become aggressive dogs.
8.
Presa Canario
( Weight: 80-115 lbs.)
It is well known that an attack of this guard dog can bring to the death any prey. One of the main features of this dog is fearlessness, huge power and man-stopping ability.
9.
Boxer
(Weight: 50-70 lbs.)
These dogs are intelligent, frisky and full of energy. It is not so easy to train them as they are self-willed breed. In addition, boxers are not typically aggressive by nat
10.
Dalmatian
(Weight: 40-70 lbs.)
This breed is distinguished by intelligence and perfect memory, independence and survival instincts. Sometimes Dalmatians can be aggressive towards people.
11. The Kangal Dog is a large, powerful, heavy-boned dog, whose size and proportions have developed naturally as a result of its continued use in Turkey as a guardian against predators. The head is large and moderately wide with drop ears. A properly proportioned Kangal Dog is slightly longer (measured from prosternum to point of buttocks) than tall (measured from the withers to the ground), and length of the front leg (measured from point of elbow to the ground) should equal slightly more than one-half of the dog's height. The tail, which is typically curled, completes the distinctive silhouette. The Kangal Dog has a double coat that is moderately short and quite dense. The Kangal Dog has a black mask and black velvety ears which contrast with a whole body color which may range from light dun to gray. Honorable scars or other evidences of injury resulting from working in the field are not to be penalized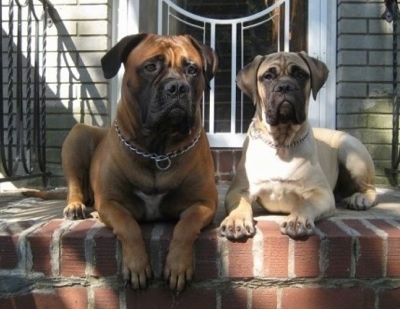 12.The Bullmastiff is massive, very powerfully built, but is not a cumbersome dog. The large, broad skull is wrinkled and the muzzle is broad, deep and usually darker in color. The forehead is flat and the stop is moderate. The black nose is wide and has large nostrils. The teeth meet in a level or undershot bite. The medium sized eyes are dark hazel. The V-shaped ears are set high and wide carried close to the cheeks giving a square appearance to the skull. The strong tail is set high, thicker at the root and tapering and is either straight or curved, and reaches to the hocks. The back is short, straight and level between the withers and the loin. The short, dense, slightly rough coat comes in brindle, fawn, or red, often with black markings on the head.